Welcome to E-Conic Cars Ltd (Moss Jaguar).
Specialists in the legendary Malcolm Sayer-designed Jaguar E Type. Based in leafy Letchworth, Britain's pioneering Garden City (and home to the worlds' first roundabout), we can provide you with services ranging from supplying a castle nut to a full restoration.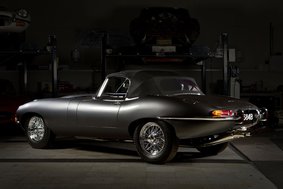 Series 1 E Type restored by MossJaguar
The price of Series 1 cars is still rising and the right car can now cost up to £200k – not including the lightweights, historically-significant cars, or the first 500 in that figure! Consequently, unless you bought your car years ago or are lucky enough to have secured that lottery win, a Series 1 car is out of reach for many of us now, which is a pity. There is a solution though - the Series 2 cars.

The driving experience is identical, as is the view over the bonnet from the driver's seat. Meanwhile, love them or loathe them, the improved seats, clock, ventilation and lights of the Series 2 make them a highly-practical car for actually driving, instead of just showing or taking out a few times a year. We are able to offer good, usable Series 2 E Types for 70% of the cost of a similar condition Series 1

---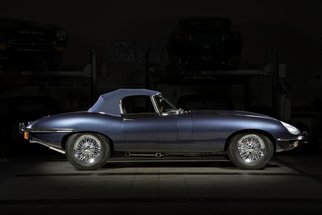 Series 2 E Type restored by MossJaguar
Recognising that the structure of an E Type is the most complicated part of the car (and normally beyond most home restorers to repair) we actively search out, import and sell cars where the body structure is sound and requires no panel work or welding.

The car might require work that can be carried out over a period of time by the new owner, or alternatively, we can do the work for you in-house. You will also receive a schedule of work that we would recommend be completed in due course which gives you the option of spreading the cost of your restoration, safe in the knowledge that you are improving the car in a controlled manner.

All of our cars are sold with a current MOT, registration and road tax, although of course all E-types fall into the UK pre-1972 free road fund licence category.

Please feel free to ring us (0752 8811808) for advice on your current project, issues, parts - it's always interesting to see what you are getting up to!

We are always on the lookout for suitable cars to buy - whether they be abandoned projects, projects or unrestored examples. If you are thinking of selling or buying, please contact us. We are also able to offer a car appraisal service (a bit like an AA or RAC inspection service but specifically for E Types).

Thank you for visiting our site and please take some time to browse our pages. (We will be changing the content regularly so please come back and see us again).

---